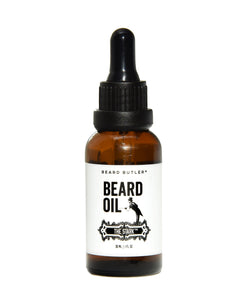 Suit Up! It's time to be a Hero. We got you covered with our

 

Limited Edition, The Stark™

 

beard oil

 

that is a 100% natural organic oil that grows, softens, and stops itching beards. It is made from natural plant-based extracts including jojoba, Grapeseed Oil, Coconut Oil, Argan Oil, Vitamin E, Rosemary Extract, and other essential ingredients. 
Beard Butler's®

 The Stark

™

 

Beard Oil

 

helps to soothe, moisturize, and invigorate your skin and facial hairs while delivering the nutrients your skin and beard needs to flourish and grow properly. The special blend of the ingredients included in this beard oil adds shine and luster and prevents dandruff, keeping your beard from becoming dry and itchy.

This vegan friendly & cruelty free organic beard oil will not only make your beard or mustache look healthier and feel fantastic, it will make them appear fuller and thicker. This oil is quickly absorbed into your beard, making it softer and stronger without leaving any greasy residue or heaviness.

All our uniquely crafted beard oils deliver top shelf experience for the modern-day man's grooming routine. It makes a great gift for men, an amazing gift for your husband, boyfriend or even your brother or dad!

Our beard oils come in a dark amber glass bottle which extends the shelf life by protecting these fine oils from UV light rays and oxidation.

And remember! All

 

Beard Butler ®

 

products come with a

 

100% satisfaction

 

guarantee. If you are not satisfied, dial up Jarvis, or if he's not available, simply contact us and we will make it right.